Sushi Cat 4 The Great Purrade
     Sushi cat 4 – the great purrade is the third time upgraded version of Sushi cat. It is a very lovely and funny game.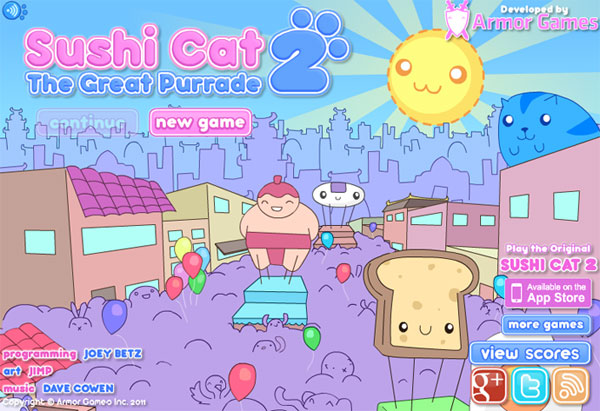 About the game
    In Sushi cat 4, you play as a blue cat that falls in special circumstances. First, it goes to join in a festival and suddenly, its pink cat toy pluck from its hands and fly away. The toy is stranded on a high place that the cat can't reach. To take the toy, the cat has to be bigger. Then, the game starts. After five levels, it becomes big enough to take back the toy, but it falls into another circumstance again. The game continues in this way till the end.
    Levels
There are 20 levels in the game. First, it starts with a video explain the reason why the main character of the game, the blue cat, has to eat so much sushi. Then, you have to play five levels to make the cat big enough to resolve its problem in the video. After five levels, there is a video showing another problem that the cat has to face with. In each level, there is a mission for you. It is always to eat the required number of sushi so that the cat can be full. After four levels, the fifth level in each circumstance is the bonus level, in which you can eat a lot of sushi. The orders of the sushi in the levels are different. Moreover, there are some things hindering the cat from touching the sushi. The hindering things also differ from one level to each other. Additionally, in the hindering things, there are some stable things, but there are some things moving. The ways they move are different among the levels too.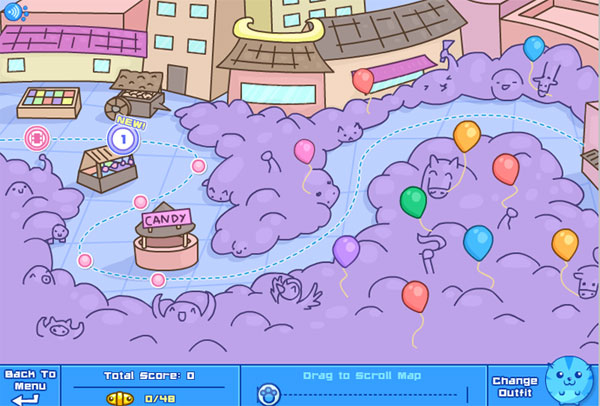 Controls
    The controls of the game are very easy. You have to use the mouse only. All you must do in the game is to choose when and where to drop the cat so that it can eat as much sushi as possible. After that, you have to move your mouse to choose the best place to drop the cat and click the left mouse to decide when to drop your cat.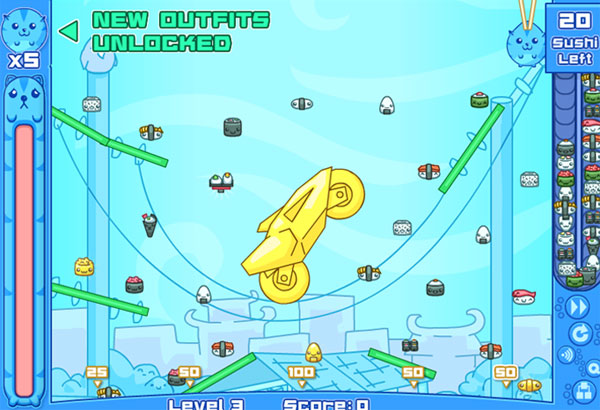 Options
– You can turn off the music and sound.
– Click replay when you got mistakes.
– Go back to the map to see where you are.
– Choose the outfit of your cat. You can make it wear what you like.
– Erase all your record to challenge again.