Sushi Cat 2
    Sushi Cat 2 is an upgraded version of Sushi cat. They were developed by Armor game.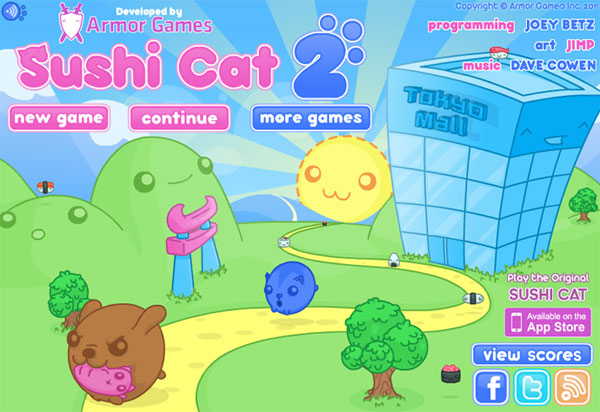 Generally, the rule of Sushi cat 2 is similar to its original version, but the circumstance of the cat is different. In the game, while shopping in the supermarket, the main character of the game, a female cat, is robbed of a pink toy by a big dog. The dog grabs its toy and runs away. The cat chase the dog till the lift but the door shuts and the cat have to push the button to open the door. However, it is not tall enough to reach the button. He must become bigger to push it. Then the game starts. Your mission is to help him eat lots of sushi so that he can become bigger.
    After five first version, the cat becomes bigger and come back to chase the dog, but the dog have entered the cinema. Meanwhile, the cat can't enter the cinema because it is not big enough. Then, the game continues in this circumstance for five more levels. The game continues in this way till the cat is able to chase the dog and make the dog return it the toy.
    There are five levels for each circumstance. In each level, your mission is always help the cat eat the required number of sushi to pass that level. There are some special things that help you to eat more sushi such as bombs, pinball or ticket and so on. However, the number of them is limited. The pinball has only 10 flips for you to use, there are three bombs for each level and the tickets disappear after 3 seconds. Therefore, you have to choose where to drop your cat to eat the helps, when and where to use the help so that it brings the best result.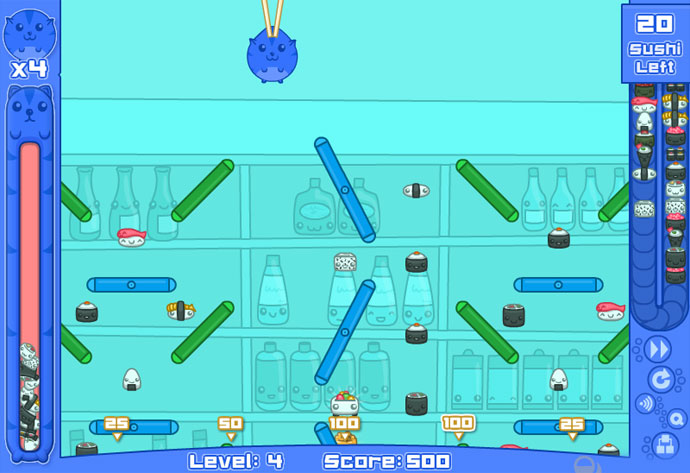 This game is very cute. The design is very colorful so that it can attract both kids and adults. The contents of the circumstances are various, so the game can't be boring when each five levels, the story in the game continues with a new circumstance happens. Besides, if you like cat, you will fall in love with the game immediately because of the lovely cat in the game.